------Bob "PoorBob" Sushko

--------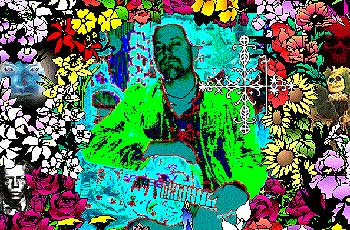 -----H a l l o w e e n




Vodou, contrary to popular belief, is not about voodoo dolls and zombies. It is a religion with deep and ancient roots in Africa. The religion is based on the concept of respect: respect for God, the Lwa (the spirits), the community, the family, the individual, and above all, self-respect. Hand in hand with respect for the living goes respect for the dead.


Halloween marks the beginning of Gede time in Vodou. The Gede family of Lwa give voice to the unknown or forgotten dead. This is a time when the Baron Samedi & Maman Brigitte, are honored with parties. Much like the Mexican Day of the Dead, Gede is a time to remember the dead and to remember that we, one day, will be among them. Many people involved in the Vodou, particularly here in the US, choose Gede time, October – November, to honor their ancestors as well as to deal with the Gede. Here in the US, many of us have few formal ways to remember our ancestors. In the past, it was customary in South Louisiana to go to church on All Saints Day (Nov. 1) and then to go to the cemetery to white wash the mausoleums of loved ones.

These traditions have largely fallen by the wayside even in such tradition bound places as New Orleans. The dead, generally speaking, fall into three categories: ancestral spirits, Gede (incl. the Barons and Maman Brigitte), and those restless and mischievous dead that can cause problems. The term Gede often is used to include the Barons, the best known of which are LaCroix, Samedi, and Cemetiere and Maman Brigitte.


BUT OF COURSE WE ALL LOVE A GOOD
ZOMBIE
Oh yeah, the Zombi are the living dead ! A corpse that a Zobop (evil Vodou priest) raises from it's tomb and becomes an eternal slave to the Zobop. Recognized by their absent-minded manner, their extinguished, almost glassy eyes, and above all by the nasal twang in their voices, a trait they share with the Gede. So, just how does one become a Zombi ?

Well, first you must absorb some Zombi Powder, of which there is no antidote:
Bouga toad (Bufo marinus) which excretes psychedelic oils from it's back

Sea snake

Ground Millipede & tarantula

Mix with Tcha- Tcha seeds (Albizzia occidentale) which will cause pulmonary swelling

Consign seeds

Pomme Cajou leaves

Bresillet leaves (last three from the poison ivy family)

All of this is ground into powder, placed in a jar and buried for two days.

Afterwards when dug up:

Add DieffenbachiDiodon holacanthusa seguine ('dumbcane' which contains oxalate needles that act like ground glass)

Skin of the White tree-frog

And oh yes......

Four species of the deadly Puffer fish which contain Tetrodotoxin (Sphoeroides testudineus, Sphoeroides spengleri, Diodon hystrix and Diodon holacantus)

Final mixture is ground human skull
Of course my personal favorite is:
1 oz. pineapple juice
Lime juice
Orange juice
1 tsp. powdered sugar
1/2 oz. Apricot brandy
2 1/2 oz. white rum
1 oz. dark rum
1 oz. passion fruit juice
add cracked ice & blend, strain into frosted glass. Decorate with pineapple & cherry. Carefully float 1/2 oz. of 151 proof rum on top...... trust me, you'll be a ZOMBIE in no time !!!
Peace,
PoorBob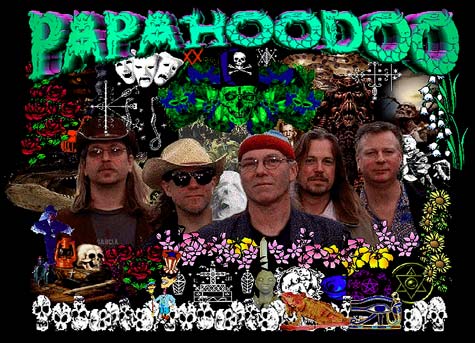 "PoorBob" Sushko (guitarist from Frank Messina's Spoken Motion) is a swampin' git-slinger from NJ where he and former SpoMo drummer, Wes "The Professor" Jensen along with Billy "The Reverend" Christiani (StirFried) Jay "JayBird" Roosa and Danny "Doc" Lane (Avalon Ballroom) make up NJ's only Swamp Rock Blues band, PaPa HooDoo. Click Here to learn more about PaPa HooDoo!

For More Swamp Sooth from PoorBob on Mardi Gras, Click Here!

News, New and Of Note! On January 27th PaPa HooDoo took to the stage at The Turning Point in Piermont, NY. The Turning Point has been a mecca for Rock, Folk, Blues and Jazz artist's for over 30 years and it's performers roster reads like a who's who across all these genres (Frank Messina and David Amram did their CD release for "The Long Road To Nowheresville" there in 04').

To a packed house, PaPa HooDoo swamped n' stomped with two encores! The first PhotoBook is in from this steamin' night of Swamp Blues and Boogie, Click Here for the pix!