Will Sovern & Shakespeare's Monkey
----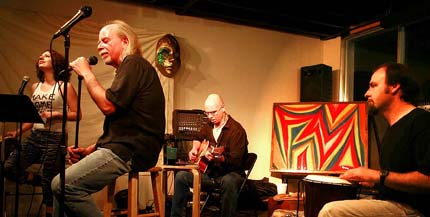 r.
Will Sovern, the founder of the award-winning performance venue Tuesday Night Reading Series has been doing his thing in Evansville since 1992 and cuurently hosts the TNR Series at The Poet House & Art Emporium 105 Adams Avenue at The Haynie's Corner Arts District in Evansville, Indiana.
In 1999, Will, Jean Ann Kizer and David Boyken formed Shakespeare's Monkey as a performance poetry group that fuses poetry & music together transforming personal experience into metaphor and has performed at the New York City poetry venues of Dixon Place, CBGB's, The Poetry Project at St. Marks, The Nuyorican and Gathering of the Tribes.
A long time compatriot of Ron Whitehead, Will and Shakespeare's Monkey are alums of Insomniacathon and performed at the last live version of Insomniacathon! "Keeping The Flame Alive" in 2003 at The Rudyard Kipling in Louisville, KY.
---=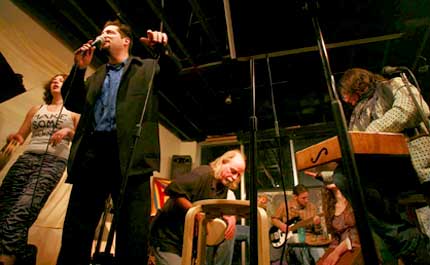 Spring of 2006 found NYC poet Frank Messina moving across the Heartland with his "One Night Stand" Poetry and Art show and shared a wonderful evening of sights, sooth and sounds.with the Faithful at The Synchronicity Art Gallery.
Will and Shakespeare's Monkey hosted and brought their sooth to stage which was captured by Insom framester, Jeremy Hogan.

Click Here to view the VidClip of their fusion of "I can't be an Impressionist Painter, all the Impressionist Painters are dead" and the Ron Whitehead poem, "The Boneman" also get a look at Jeremy's PhotoBook of this grand evening of sights, sooth and sounds from The Synchronicity Art Gallery.


News and Of Note - Bringing It All Back Home! - On Nov. 22nd, Louisville Music and Poetry powerpoint, The Rudyard Kipling lights it's stage for a stellar evening of sound and sooth with Evansville favs, Will Sovern & Shakespeare's Monkey (w/special guest Lars Garvey), Herbal Jam, Star Pupil plus Louisville;s own, Ron Whitehead & Southside with special guest from Iceland, Michael Dean Odin Pollock who now hangs his hat in Kentucky and is the latest member of Southside. Show starts at 10 PM.