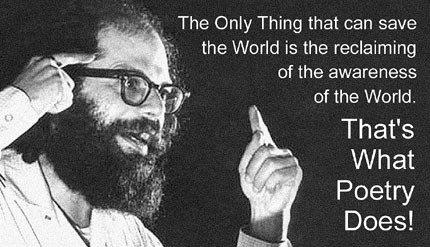 News, New & Of Note! Due to the growing size of The Howl! Festival (NYC) and the substantial costs associated with it, has forced it's organizers, FEVA (Federation of East Village Artists) to postpone this year's festivities until September 2007. Click Here To Learn More on how FEVA faultered.
Although the scope of the festivities were somewhat curtailed, there were some fantastic events and performances all week (September 8-16) at The Bowery Poetry Club with a Mega finale of Poetry and Music at The Sutra Lounge on September 16th, scroll down for ALL The Details!

In the Spirit of



at The Sutra Lounge
16 First Avenue NYC - 212.677.9477

Sponsored by East-Village.com with The Sutra Lounge
$8 for three events on two floors!

MIKE AMERICA and the FREE WORLD 5-10 pm

Acoustic Co-Hosts Janet Restino & George Wallace. Karen Maria Schliefer & Walter Finley Duo, Ned Massey, Little Embers, Nom De Plume, Casey Cyr, Talk Engine, Alice Bierhorst, Barbara Purcell with Snap Pusher, Adrienne Nightingale, Mike America
FREE WORLD MICROPHONE 5-7 pm

By Art House Productions. Christine Goodman, Garland L. Thompson Jr, Patricia Smith, Survivor, Dujuana Sharese, Ekayani, Michael Warren McHugh, Casey Cyr and Rohin Khemani on percussion.


NO HOLDS-NO BARS-NO NET 7:30-9:30 pm
Poetry Jam by Sliding Scale Poetry. MC Chocolate Waters, Regie Cabico, Anne Elliot, Bob Holman, Sapphire, Jackie Sheeler, Larissa Shmailo, Angelo Verga, Hal Sirowitz.